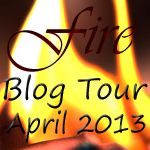 The Fire blog tour kicks off today! Head over to
Blkosiner's Book Blog
for a guest post on why I love fantasy. Don't forget to comment with your own reasons for reading fantasy books and enter the giveaway.
Speaking of giveaways - to celebrate the Fire blog tour, I will be hosting a giveaway with the chance to win 10 e-copies of the book right here at the end of the tour. But only if I reach 100 followers over the next 2 weeks.
If you want to be in with a chance to win, be sure to follow the blog, then share the link on
Facebook
Twitter, Google + and your own blog to get others to follow too.
100 followers = 10 copies to giveaway. 90 will mean 9 and 80 will mean 8 etc. So get following!