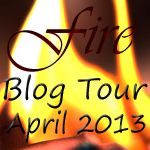 Hello, Chelly
is an incredibly cute blog with an awesome colour scheme and some great reviews. Head over there today for a review of Fire and a guest post by me on the five fantasy worlds I would really like to live in. It would be great to see some of you comment with your own choices.
And there's another giveaway for you to enter there too.
Tomorrow, I will be posting the final Q&A - this one's with Brae, so make sure you come back to read it.