There's a second really lovely review for day 6 of the blog tour, which is over at
YA Book Crazy
. It opens with the following paragraph, which I loved so much that I had to share it here: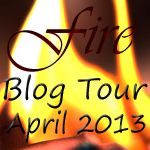 In a world where the elements of the Earth battle one another, two girls search to find themselves amidst startlingly circumstances. Roxy, a girl who is as
fiery as the flames themselves, has lived her entire life in violence. She'd rather destroy than create, and isn't afraid to let others know that. Jasmine, an unusual girl with an unknown past, has a dark secret. She won't risk letting anyone know what plagues her, even her best friend Brae. Both girls are extraordinarily different, yet one common, unlikely goal brings them together.
As part of the tour stop, I have also written a character Q&A for Jasmine, where she answers questions on her favourite memory, what you would find in her room and her worst fear. I will follow it with a Q&A on Roxy here tomorrow, and one with Brae later on in the tour. Make sure you check all three out for an insight into the main characters in the series.
And,of course, there's also another giveaway!