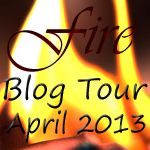 As a writer, getting feedback on your work is invaluable – it helps you to progress and improve and also lets you build up an audience. One of the easiest ways of doing this is through online writing sites like Figment and Wattpad. I have used both sites and this post is on why each is great.

Wattpad: One of the things I am most proud about in my writing, was that within a few days of going up on Wattpad, the first three chapters of Fire made it into the top ten fantasy stories on the site. It was also top of the Fantasy Teen Reads for quite a while.

Good For
Long stories with lots of chapters
Practice at sticking with one stories, dedicating a lot of time to it and updating frequently
Practice marketing and publicising
Reading series
Measured in reads – so people don't have to comment or vote for your rating to go up.
Not so good for
Short stories (harder to build an audience)
Figment: The best thing about Figment is the competitions. Whereas Wattpad works best for long stories, which are updated frequently, Figment is all about challenging yourself to write small pieces on a wide variety of subjects. On Figment, I have written about scenarios and characters very different to anything from the Elements of Power series. I think that I have learnt a lot more from doing this.
Good For
People can react – quick way to engage, instant feedback
It tells you how long it takes to read each one
Easy to 'swap'
Competitions – lots of inspiration and prompts
Not so good for
Longer stories - Comments are on the whole story, not specific chapters, so people will generally only comment once
People will 'swap' hearts – so won't necessarily actually read what you've written.
If you don't already have an account on either of these sites, I really recommend that you look into them now; even if you are a reader, rather than a writer, you'll be amazed what you can find on them. And the best part? They're all free! Hundreds of brilliant stories at your fingertips, without it costing you a penny!
And if you do have an account on either site, comment with a link so that I can check it out. I'll feature anything that I really like on the blog after the tour is over.